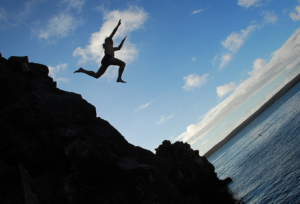 Here's a dirty little secret that you might not want to hear; you are going to screw up. We all are. Whether it's in friendships, relationships, business, school, or life…we all get off the tracks sometimes.  This is a lesson from my new book Fan of Happy.  Listen to the Delivering Marketing Joy Podcast on the topic here.

Sometimes we know it's a mistake heading in. We know we are making a mistake and make it anyway. But every once in a while, we do something with the very best of intentions and it turns out to be a mistake too. I think those are the most painful. We find ourselves at the end of that road saying "Hey! I was just trying to help. Look at what happened."
Either way, it was a mistake. So what happens now? If you want to get over it—and you do—here are three quick steps to moving on.
Own it: This is the hardest step for most people. If you want to do it right, you REALLY have to own it. You can't say "I am sorry that THEY screwed up." It can't be someone else's fault. If it's someone else's fault, you can't truly be sure you won't do it again. You have to take full responsibility for it.   You have to OWN it. Here is where you apologize (sincerely) if anyone else was affected. That's a BIG part of owning it. Hard? Yes. Important? Yes.
Learn From it: Once you really own it, you can look at how you can avoid that same mistake in the future, but it has to be your mistake to learn. You have to exercise the control in order to keep from doing it again.
Move On: You made a mistake. You owned it. You learned from it. But keep in mind, all of those statements were in past tense. You can't turn back time. Now you need to take a step forward, and move on.
Do these three things every time you make a mistake (yes it will happen more than once) and you will be surprised how fast you get better.
Remember, life's a journey. This was just one speed bump on the road.
Have you subscribed to the Podcast yet?  You can keep up with Delivering Marketing Joy each and every business day!  Do it now at iTunes here, Soundcloud or at Stitcher.
Want to keep up all the time?  Make sure to join our VIP List!  Our VIP's get an email with the latest content…and other special offers as well.  Join here.