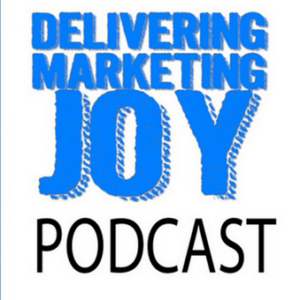 Value.  That is what I am trying to bring you each week.  Whether it consists of inspiration, education or motivation, the content that you find on this site is designed to push you to your best year yet.  But I am putting out a LOT of content.  I get it.  So here, in one place, you can find this week's Delivering Marketing Joy material!  Let's get to it.
Monday:  Giving is Hard, Do it Anyway.  Sometimes I get push back that if you "give first" that people will take advantage of you.  I am not going to lie…that could happen.  In this podcast I tell you how it happened to me.  Give is hard…but you need to do it anyway.
Tuesday:  Fear and Action.  If we want to achieve anything in life, fear will show up.  It's the thing that holds us back from moving forward.  But today we talk about the antidote to fear…action.  Listen in here.
Wednesday:  Delivering Marketing Joy with Shana Anderson Nute.   Today you get the chance to meet an energetic lady that will help you get out of your own way.  Shana reminds us that we all have challenges.  As she said, "They can make us bitter or better!"  I love that!  Listen to that conversation here.  And of course if you want to watch this one on Youtube, you can find it here!
Thursday:  Are You Really Hustling?  Today we talk about the fact that we all think we are hustling.  But are we really?  I discuss my experience and how I think I can always do just a little bit more.  Here is the hustle.
Friday:  3 Tips on Mistakes.  Unfortunately we all make mistakes.  It's a fact of life.  The challenge is how to use those mistakes to grow and learn.  On today's podcast we spend some time on the 3 steps to making the most of your mistakes.  Learn more here.
I sincerely hope this gives you a boost for the week!  If you want to keep up, you can subscribe to my channel on Soundcloud or iTunes.  Or you can also subscribe on Youtube as well!  Let's make this an awesome 2016!
Want to keep up all the time?  Make sure to join our VIP List!  Our VIP's get an email with the latest content…and other special offers as well.  Join here.