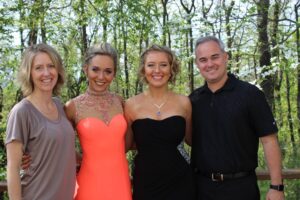 Each week I take a look at someone that we could all learn from…and give you 5 lessons.  We have learned from everyone from Peyton Manning to Jimmy Buffett.  This week, we have been exploring lessons  from my new book Fan of Happy (buy that here).  The new book is a compilation of 110 lessons for my daughters.  So this week on the podcast, we look at 5 lessons I have learned (and you can learn) from my daughters.  Listen to the podcast here.

So let's take a look at some of the lessons that I have learned from my girls!  Ahhh…where do I start?
You Can Evolve Into Leadership:  Sometimes we are thrust into roles of leadership, whether we are ready or not.  My oldest daughter (Skylar) is a senior and getting ready to graduate.  This year she was put into leadership roles as a captain on the soccer team, dance team and even being President of the Key Club.  She had not been in these leadership roles in the past.  She could have faded.  But she embraced the roles.  I was proud of how she owned it.  She showed me that, ready or not, you can make yourself ready to be a leader.  She did.  You can too.
Kindness Pays:  My youngest daughter Jade has always been a kind soul.  Recently she went to prom with a great young guy with Down Syndrome.  They went to Prom and both had a great time.  Jade went and did not really think that much of it.  But many people were very nice about the situation and made her feel great.  She just did it because of who she is.  But we sometimes lose sight of the fact that the world needs kindness.  Jade just naturally sees that.  Long term, it pays off.  When in doubt, be kind.
Embrace Excellence:  Skylar is very competitive.  She might get that from me.  She has grown up over the last few years and is able to handle that better.  But in each thing she does, she totally expects excellence from herself.  She can be very hard on herself when she doesn't get her best.  Though there is always a balance we need to find, we need to expect excellence.  And by the way, make sure to expect the best from yourself…not just others!
Be Willing To Stand Out:  It is one of the hardest things in the world, sometimes, to just be yourself.  The world wants to put everyone in a box.  Jade has always been willing to be her own person.  The interesting thing is, those that think for themselves will be the most valuable in the years to come.  Be yourself!
Be Good To Your Momma:  Both of my girls really do have a good relationship with their Mom.  Of course there are times when there is friction.  But for the most part, they get along.  It makes life a lot easier for me.  But more importantly, it builds a great foundation for future success.  Thanks to Amy for being a great Momma…and thanks to the girls for noticing.
So those are your 5 Lessons for today!  I hope you enjoyed them!
You can purchase the book Fan of Happy on Amazon here.  It is available in Kindle version as well here.
Have you subscribed to the Podcast yet?  You can keep up with Delivering Marketing Joy each and every business day!  Do it now at iTunes here, Soundcloud or at Stitcher.
Want to keep up all the time?  Make sure to join our VIP List!  Our VIP's get an email with the latest content…and other special offers as well.  Join here.