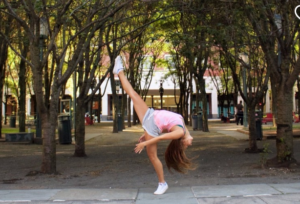 My daughter, Skylar, is a dancer.  A really good one, if I do say so myself!  She is at college studying dance and considering what options she should pursue next.  As you might expect, I am proud.
It occurs to me, however,  that in her consideration for what she is going to do next, she is going to face a certain fear that all of us have to tackle.  She is going to have to be willing to fail.  She has always been a talented dancer.  But if she decides to chase her dreams of becoming a professional dancer, she will need to go to auditions…and be told she is not good enough. She will need to be willing to put herself out there with the chance of not being selected.
We hear a lot about failure as entrepreneurs and salespeople too.  There are all kinds of motivational posts about "being willing to fail."  But in thinking about Skylar it occurs to me that there is a part that many of us don't mention.
You have to be willing to fail…again.
I am reminded of another talented dancer that came out of the same studio.  She was one of the best at that time.  She even went to try out to become a Dallas Cowboy Cheerleader!  She put herself out there and auditioned and did well.  She made it to the final cut day and, unfortunately, was not selected.  She made it to the final day!  That tells you that she was one of the very best that came to try out.  But she didn't try out again.
That's what a lot of us do, right?  Those of us that are "willing to fail" will put ourselves out there, only to come up short.  It happens.  And let's be clear, most people are not willing to do it.  No shame in that.
But the ones that reach their goals, go farther and succeed are willing to fail again.
Want to keep up all the time?  Make sure to join our VIP List!  Our VIP's get an email with the latest content…and other special offers as well.  Join here.