Each week I am proud to host people on Delivering Marketing Joy.  It's a labor of love to recruit the guests, create the questions, and have the chance to interview leaders.  Truly…I love it.
But every once in a while I get the honor and privilege of being a guest on someone else's show.  It's a blast because it gets me to stretch some new content muscles. Josh Hall, website guru, invited me to be a guest on his show recently, and here is the result.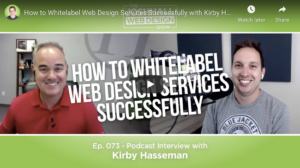 Josh creates content specifically targeted at website creators, so this was a different and fun conversation.  As is the case with many conversations, some of the truths about service and communication hold true regardless of business.
Enjoy!
Kirby Hasseman is the CEO of Hasseman Marketing, a full service marketing agency located in Ohio.  Learn more about Hasseman Marketing here.  And if you are interested in have him speak at your next event, you can learn more here.