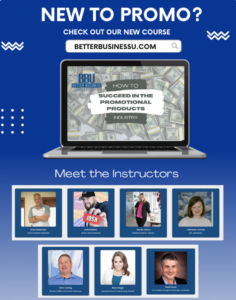 Today is launch day!
One of the biggest challenges I have, when I am excited, is keeping something a secret.
We have been working on a new course for Better Business University for several months now.  The course will go live today on July 1st, and I am excited to say that "people are talking about it."
Today on the Promo UpFront podcast, Bill Petrie and I discussed the new course (and a new project from him).  You can watch and learn more here.
In addition, I was so honored to be interviewed by Bobby Lehew from commonsku about the new program.  He includes our short conversation before his great conversation on the Enneagram here.  Thanks so much, Bobby!
What Is The New Course?
Those who are new to the Promotional Products industry, or those that have hired new team members, now have a new course to get them started on the right foundation. Better Business University, the premier online learning platform in the Promotional Products Industry, has announced a new course called "How To Succeed In The Promotional Products Industry."
What Is In The New Course?
The new course features videos with industry pros talking about how to set up a business properly, why the proper artwork can make all the difference, and why order management is how you grow properly. In addition, there are videos that tackle search tools and how to find customers.
"I am so excited about this new course," says Better Business University Founder Kirby Hasseman. "We have heard over and over that there was a gap in the industry training, and we hope this fills that need."
Some of the featured teachers in the course include Catherine Graham, Josh Robbins, Dana Geiger, Kirby Hasseman, Charity Gibson, and David Shultz…just to name a few.
The course is a stand-alone class but is also included in the full offering of courses on BetterBusinessU.com.
To learn more head to: https://betterbusinessu.com/how-to-start-a-successful-promotional-products-company/
Better Business University is the premier online training platform in the Promotional Products industry.  BBU includes courses on productivity, website development, social media and content marketing, and more.  To learn more about Better Business University go to:  BetterBusinessU.com.