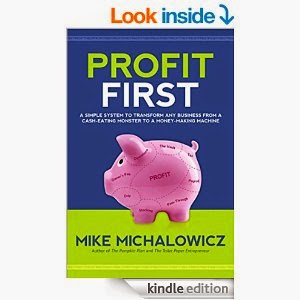 I set the goal to read 50 books in 2015. It's a lofty goal but I am on my way. Here is a quick update of the books I have gotten through so far!
Start by Jon Acuff: Great book to start off the new year! I like Jon's style and it's a great motivator if you want to get yourself going! Love the line "Punch Fear in the Face!"
Switch on Your Brain by Dr. Caroline Leaf: Not a bad read. Ties bible lessons to science on happiness and productivity.
The Self Made Billionaire Effect by John Sviokla and Mitch Cohen: Not bad but probably my least favorite so far this year.
Transform by Jeff Haden: Really liked this one. Lots of Jeff's best stuff in one place. Great book to read one chapter per day. Jeff was also nice enough to spend some time on my web show!
Profit First by Mike Michalowicz: Love this one! Several times I felt like he was following me around! 🙂 Highly recommend this one for anyone who has a business. This has really changed the way we account in ours. Mike was also a great guest on Delivering Marketing Joy!
What To Do When It's Your Turn by Seth Godin: Really good reminder that it's always our turn to step up and make a difference. Quick read…great one to share!
Scaling Up by Verne Harnish: This was a good one but I should not have gotten it on audio. This would have been better as an actual book. Great things to make me think…but would have gotten more out of it if I could see the references.
These are the ones I have completed. I am currently reading Pumpkin Plan and Money (Master the Game). It's been a great journey so far. I really think it's helping me to grow.