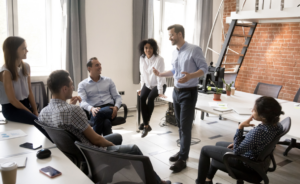 Nearly all of the best athletes in the world have one thing in common.  They have a coach. Despite the fact that many of them have reached the highest levels of their sport, they have someone on their team to help push them.
Coaches make sense for entrepreneurs too.
Having an outside voice that can be a sounding board or a guide can be incredibly valuable for someone growing a business.  I have certainly had my share of them over the past 15 years.  That is why I am excited to announce that I have joined the team at the SBDC as a coach for businesses and entrepreneurs.
And the best part?  The service is free to businesses.
Small Business Development Centers (SBDC) provide free marketing, financing, and business-related assistance to local entrepreneurs. In Coshocton County, the SBDC partners with the Coshocton County Chamber of Commerce and the Coshocton County Port Authority to help businesses succeed in the community.
This also is consistent with the 3 For 3 Initiative for Coshocton County initiative that I am passionate about.  In case you missed it, the 3 For 3 initiative identifies 3 priorities to move Coshocton County forward over the next 3 years.  Priority 1 in the 3 for 3 is to create a Culture of Entrepreneurship and Business.  The more resources and information people have to start businesses, the more likely Coshocton County will continue to flourish.
As a part of this initiative, we have also created this FREE roadmap on how to start a business in Coshocton County.  You can get that here.  We have a Roadmap, a PDF explaining the steps and we have created a 5 part video series as well.  All of these resources are free.
You can learn more about the SBDC at https://www.sbdcksut.org/ or by calling 330-308-7479.
Make sure you never miss an update!   It's time to become a VIP.  Sign up here. 
Kirby Hasseman is the CEO of Hasseman Marketing, a full-service marketing agency located in Ohio.  Learn more about Hasseman Marketing here.  And if you are interested in having him speak at your next event, you can learn more here.