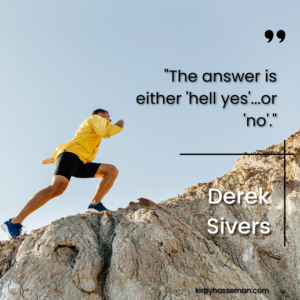 Entrepreneurship is really hard.  The hours are long and the stress is high.  While you can take days off…if the business is open, then you are on call.  Always.
This is especially true when you first begin.
I love the life of starting, owning, and running businesses.  It's in my blood.  It's my hobby.  For me, it's who I am all of the time.  And that's kind of the lifestyle you are signing up for when you start a business.  You have to be all in…all of the time.
As Derek Sivers would say "The answer is either hell yes…or no."
Starting a business (or keeping it running) has to be that itch you HAVE to scratch.  While there are occasionally stories of the "accidental entrepreneur" (the person who didn't want to start a business, but did and succeeded), they are the exception.  Most of the time, entrepreneurs need to have a passion to solve a real problem.  They just can't let it go.
I say this because, at some point along the journey, you will want to quit.  It's only natural.  As I said, starting a business is hard.  And you will need to know that you "have to" do this business.  You need it.
If you are wavering on whether to keep going, asking Facebook for advice will not help.  Seeking out this sort of external validation can feel good.  It might even tell you that there is a desire for your business to keep going.  If that's really the case…great.  Then sell the business.
But if you are wavering on whether you want to go…you probably don't.  When it comes to entrepreneurship, the answer is either "hell yes" or "no."
P.S.  It's April Fool's Day.  If you want to hear why I don't like this day at all (especially for brands), check out today's episode of the Promo UpFront podcast here.  
Kirby Hasseman is the CEO of Hasseman Marketing.  Make sure you never miss an update.  Get on this HMC VIP email list.    Sign up to be an HMC VIP here.