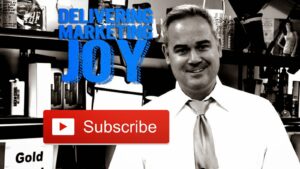 It's hard to believe we have recorded over 90 episodes of Delivering Marketing Joy!  What started off as an "content experiment" has become a weekly education session for me…and hopefully for you!  I have had the chance to interview entrepreneurs, marketers, authors, content creators and business superstars!  It's been fun.  It's been an honor.  And it's still going strong!
So I thought it might be interesting for you to see the "most viewed" shows so far.  Take a few moments to watch, learn and enjoy!
So those are the top 5 "most watched" episodes of Delivering Marketing Joy so far!  Special thanks to researcher Jade Hasseman for working on this post!  Please let me know if you have someone that I need to interview for an upcoming episode of Delivering Marketing Joy!
Want to keep up all the time?  Make sure to join our VIP List!  Our VIP's get an email with the latest content…and other special offers as well.  Join here.