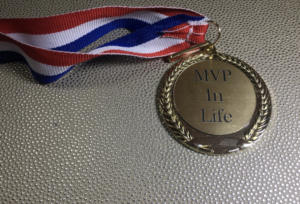 One question I get all of the time is, "How do you get so much done?"  It's an important question…and a flattering one.  The topic is so important, I have dedicated one complete course to "How To Get More Done" in the upcoming Better Business University.  And while there are tactics and strategies that will help you be more productive, my secret weapon is my team.
I have an amazing team at Hasseman Marketing.  The whole gang works hard to help free me up in order to move the company forward.  But I did want to give a quick shout-out to a few MVPs (both inside and outside of Hasseman Marketing) that make a huge difference in my life.
Here are my 4 Life MVPs.
Emily Bradford
Emily is my assistant, my right hand at the office, and a rock star inside salesperson at Hasseman Marketing.  She is an incredible worker and giver…and she really does help me stay on top of things.  Her ability to manage requests, sales orders, the team, and my schedule help give me the space to get things done and explore new ideas and opportunities.  As we say in the office, "Every family (and team) needs an Emily."
Eric Dingler
Eric Dingler is our web developer at Hasseman Marketing…but so much more.  Eric is an amazing entrepreneur in his own right and is a person I go to when I want to bounce business ideas off someone.  In addition, he has been an amazing voice and contributor to the new BBU project.  He does this while helping us create some amazing websites for HMC.  You can learn more about that here.
Bill Petrie
Bill Petrie is my partner in content and my friend.  In our industry, we get a lot of kudos for our consistency in the creation of the Promo UPFront podcast.  That is all him.  Bill drives the bus on scheduling, topics, content ideas, ads for the podcast, and more.  In addition to being that driving force, he is always willing to lend his voice, his expertise, and his opinion (which I value) to any number of projects I am working on.  Bill is a Managing Partner at brandivate.  If you need someone to help you grow your business…you should talk to him.
Amy Hasseman
Finally, there is my lovely bride.  This is not meant to gush, but I am so impressed by what she has done on the Renaissance on Main project.  She has worked tirelessly to restore a historic building in downtown Coshocton.  In addition to that full-time job, she manages to help me with Hasseman Marketing, do good work in the community, and be a wonderful mother to our great girls.  She inspires me to be better…and encourages me to be better as well!
This is a shortlist of my 4 life MVPs.  While the list is woefully incomplete (I am really sorry to all of those that help me and are not on here), I wanted to acknowledge just a few people that help me (seemingly) every day.
If you interested in putting in the work to level up, please feel free to check out the new Better Business University.  We are creating an affordable, online education platform that will help you (and your team) grow.  Learn more here.