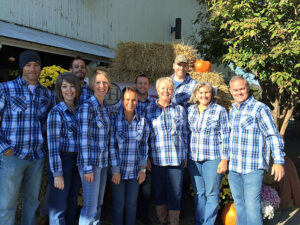 Today is the day.
For many, today is just another day.  But for Hasseman Marketing, today is our Annual Customer Appreciation/Trade Show.  Each year, we set up a show with food, drinks, and #MarketingJoy in order to say "thanks" to our current clients and to provide ideas for upcoming projects.
The idea is to both say thank you…and provide value.
Saying Thanks:  We believe we all should say "thank you" more often.  Most of us reading this (and certainly the person writing it) are very blessed.  We live in a tremendous country where we get to do tremendous things.  At HMC, we are very lucky to get to work with great companies, organizations, entrepreneurs and individuals.  Showing gratitude is not only the right thing to do…it's good for us.  So a huge part of doing this event each year is to celebrate that…and say thank you.
So if you are reading this, thank you.  We really do appreciate the opportunity to serve.
Providing Value:  But this event is not just a party!  We invite some of our very best suppliers and our great customers to this event for another important reason.  We want to provide value (to both).  This gives our amazing customers the ability to see, touch, feel and experience what our great industry has to offer.  So many times, one of our customers will see something that reminds them of a project…and a way we can help.  It's a wonderful thing.
Our hope, though, is that is provides value to our supplier partners as well.  The fact is, they know their product line better than anyone.  This gives them the chance to advocate and share directly with our best customers.  We hope there is value there.
The goal is always a win-win-win.
So if you are interested, please join us.  The event is from Noon to 5pm in Coshocton.  The directions and address are here. 
If you are unable to attend, we certainly understand.  But let me say "thank you" for your support.  Let me know how I can provide value in the future.
Want to keep up all the time?  Make sure to join our VIP List!  Our VIP's get an email with the latest content…and other special offers as well.  Join here.