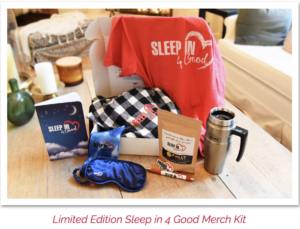 I slept in this morning…and I feel so much better.  I am sure you understand.  It was a long week at work filled with projects, stress, and road trips.  Like so many of us, I burned the candle at both ends, and by Friday night I was exhausted.  So getting just one morning to not set an alarm, feels like a blessing.
For some reason, the coffee just tastes better this morning.
I have long understood the power of sleep to improve productivity.  I talk about it at length in the course on "How To Get More Done" at Better Business University.  Sleeping helps the brain refresh so it can think more clearly and deal with stress.  It stands to reason that it would help productivity…and science backs that up.
What I didn't realize was the powerful role sleep plays in our mental health.
It makes sense, of course.  But I would not have realized the connection if my friends at PromoCares had not started their new campaign called "Sleep In 4 Good."
"PromoCares wants to raise awareness around the stigma of mental health and its connection to sleep deprivation. By bringing attention to the connection between the two, we wanted to create a way to give a certain amount of sleep in hours back to the promo industry. Our goal is to use promotional products to help raise funds for NAMI, which is on the front line of providing advocacy, education, support, and public awareness so that all individuals and families affected by mental illness can build better lives."
Let's face it, mental health has come to the forefront of discussion because it affects us all.  So if you want to learn more and lend a hand, click here.  You can learn more about this campaign, donate, and even get some amazing branded merchandise for your efforts.
This is a small way that all of us, regardless of industry or situation, can lend a hand.
Finally, if you are struggling with your own mental health, please understand that you are not alone.  There are many organizations that want to help you.  It's time that we raise our awareness and the conversation.  And one way we can do that is to participate here and "Sleep In 4 Good!"
Make sure you never miss an update!   It's time to become a VIP.  Sign up here. 
Kirby Hasseman is the CEO of Hasseman Marketing, a full-service marketing agency located in Ohio.  Learn more about Hasseman Marketing here.  And if you want to "level up," now is a great time to check out Better Business University.