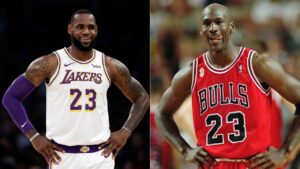 The 2020 NBA Season just ended and the Los Angeles Lakers won the championship.  The strange season, played inside "a bubble" in Orlando, finished with Lebron James taking home his 4th championship with his 3rd different team.  Regardless of how you feel about Lebron (that's a post for another day), it's an impressive accomplishment.
So inevitably, before the confetti stopped falling and the champagne dried up, commentators and fans began comparing Michael Jordan and Lebron James.  Who is the Greatest of all Time?  As a matter of fact, as you are reading this, many of you almost can't contain yourself from yelling out your opinion.  Right?
But here's my take.  Stop Comparing Jordan and Lebron.
Sure, the talk show gas bags need something to debate each day.  They will never stop.  But I have talked about this before.  Comparison is the thief of joy.  And while I am mostly talking about comparing ourselves to others, it holds true here too.  Why?  Because while we are comparing two of the best basketball players of our lifetime, we are missing the moment.  We work to create our list of points to make sure we "win the argument."  We might even consider what the other side might say so we can counter.
In the meantime, we are missing the opportunity to enjoy greatness.
Can we just agree that both are generational talents?  Both Jordan and Lebron can do (and have done) things on the basketball court that others just can't.  (If you can't agree with that, just stop reading and go argue with someone else).  They are amazing.  If you are a real sports fan, some day you will reminisce with friends about "that time" one of these superstars hit a shot to win a game.
So why not just take the time to enjoy it now?  So that's my take.  Stop working so hard to compare Jordan and Lebron.  They are different players…but they are both great.  It's a privilege to get to watch them work their craft.  Take this time to do that.
Kirby Hasseman is the CEO of Hasseman Marketing, a full service marketing agency located in Ohio.  Learn more about Hasseman Marketing here.  And if you are interested in have him speak at your next event, you can learn more here.