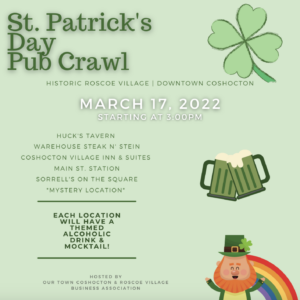 In a world where 89% of what we see is negative, we need to take the time to celebrate good things…and we need to be intentional about it.  So here are a few things I am excited about this morning.
St. Patrick's Day Pub Crawl in Coshocton
St. Paddy's Day is a huge celebration all over.  But this year Coshocton County is getting in on the action!  To celebrate their new DORA, they are having a Pub Crawl tonight.  Head to any of the participating locations and support this new initiative (and our local restaurants).  This includes a new place (coming soon) called Thompson 99.  Exciting stuff all around.
JobsInCoshocton.com
There are tons of employment opportunities in Coshocton County right now.  And this new site is designed to target a younger demographic.  So if you know someone 17 (-ish) to 24 (-ish) send them to check it out.  There are internships, entry-level jobs, and even resume training.  Head to JobsInCoshocton.com to learn more.
This is a really cool collaboration between the Coshocton Port Authority, the Coshocton County Chamber, and Coshocton County Ohio Means Jobs.  Read about it here.  We are incredibly excited that Hasseman Marketing got to help work on this project.
New Race In Coshocton
I always said that I would take part in any Half-Marathon that took place in Coshocton County.  Well, Sherry Kirkpatrick (and the Friends of the Park) called my bluff!  They have a new race on April 16th that includes a 5k, 10k, and a Half-Marathon.  You can learn more here.  Oh…and register soon if you want a shirt!
Featured on New Podcast
And it's always fun (and flattering) to be included on podcasts.  Stoey Stout and the Whiz Media Group recently started a new podcast called Y-City Side Hustle and asked me to be a guest.  You can check out all of the episodes, including mine, here.  Thanks for including me!
These are just a few good things to tip a glass to (on this St. Paddy's Day).  There are certainly more reasons to celebrate.  Let's make this a great day!
Kirby Hasseman is the CEO of Hasseman Marketing.  Make sure you never miss an update.  Get on this HMC VIP email list.    Sign up to be an HMC VIP here.