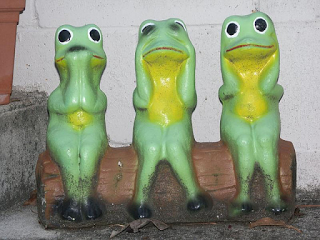 Here's a riddle:
There are 3 frogs sitting on a log and one of them decides to jump. How many frogs are left?
If you said 2, you are wrong. It's the challenge, I think, we have with a lot of endeavors in life. There are still 3 frogs sitting on the log. The one decided to jump…but it didn't ACTUALLY jump.
Lots of people have great ideas. Most people have great intentions. But what do they actually do?
Want to make difference in the world? In your community? In your job? In your life?
Take the idea or the intention or the knowledge…and do.
Take action. You will be glad you did. And even if you are not glad, you will have learned something.
Stop thinking about it, my tadpoles. Jump.