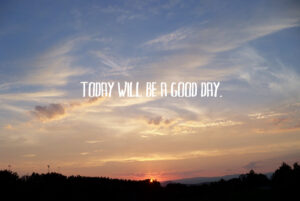 I talk a lot about starting the day by "putting good in your head."  There is so much negativity in the world, so I think it is important to try and put positive in your brain first thing.  But what happens when, despite your best efforts, things go off the rails?  No matter what your plans are, nothing seems to be going well!  That happened to be a bit yesterday.  I had a plan…and then things started to go awry.  Listen to that story…and what I think you can do when a good day starts bad.

So what do you do?  Here are a few things that I do when my mood starts getting away from me.  Please let me know what you think I have forgotten!
Recognize the Problem;  The first step in any resolution seems to be the same. You have to recognize the problem.  Don't just let the bad mood run away from you!
Take a Breath;  Slow down.  And yes, take a deep breath.
Remember the Lottery:  This is one of the rules from the Happiness Equation.  I did an entire podcast about the book here.  One of his rules was that we need to "remember the lottery.  Remember that if we have the ability to read this post, listen to this podcast, have a computer, we are in elite company.  We have won the lottery of life.  This perspective is important…and true.
Act of Gratitude:  Showing gratitude has a wonderful affect on your body and on your mood.  Now that you know that you have a mood moving out of control, a simple act of gratitude can help get your body right.  So say "thank you" to someone, send a card, give a hug…whatever.
Search for the Funny:  This might be something from the situation, or not.  I sometimes will listen to a comedian or watch a funny video.  Something that makes me laugh can really get me back on track.
Your Happy Place:  Finally, do something that helps you and your mood.  Take a walk, do a yoga pose, listen to a book, whatever.  Just be intentional.  So many of us let the day happen to us.  Each one of these is a way to take control back over our mood.  Do what you need to do to get your mood going the right way.  Your day will follow!
What did I miss?  What steps do you take to get your mood back on track?  Let me know!
Have you subscribed to the Podcast yet?  You can keep up with Delivering Marketing Joy each and every business day!  Do it now at iTunes here, Soundcloud or at Stitcher.
Want to keep up all the time?  Make sure to join our VIP List!  Our VIP's get an email with the latest content…and other special offers as well.  Join here.