Last night I went to the "race packet pick-up" for the Friends of the Park race in Coshocton County.  Before I walked in to get my t-shirt and merch, I ran into another runner and we discussed if we "felt ready" for the race.
"I always wish I would have trained more," I told him.  "But when tomorrow comes, I will be there!"
I realized this morning that I always feel this way.  At every race, especially the longer races, I find myself at the beginning wishing that I felt "more ready."  I always wish I would have trained more.  Every time, I think that I could have been more prepared.  But then, on the day of the race, I go out and compete…and it usually goes just fine.
This feels like a metaphor for entrepreneurship or starting a new project.
You will never feel completely ready.
Waiting "until you are ready" is a fool's errand.
At some point in the process, if you want to run the race, you have to show up anyway.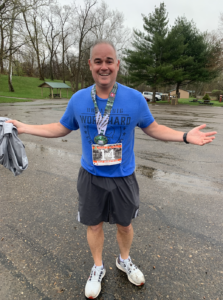 I probably wasn't ready.  But the race went fine.  Shout out to The Friends of the Park, Sherry Kirkpatrick, and DK Races for putting it on.
Kirby Hasseman is the CEO of Hasseman Marketing.  Get a copy of his best-selling book "The Give First Economy" for FREE here.