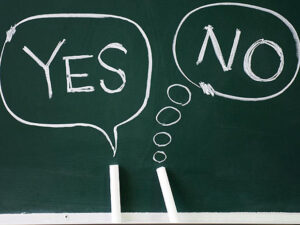 Yesterday I gave a quick update on how I am doing on my goals.  It's great to track progress.  It can be encouraging…or it can give you a kick in the pants!
Another reason to check on your goals is to make sure they are still pointing you where you want to go.  Are they still pushing you toward the outcome you want?
When you dedicate yourself to something, you are saying "yes" to that.  And when you say "yes" to one thing, you have to say "no" to something else.  You can't be all in on everything.
Every once in a while, it's important to make sure you are saying "no" to the correct things.  If not, it might be time to adjust the goals.
Make sure you never miss an update!  It's time to become a VIP.  Sign up here. 
Kirby Hasseman is the CEO of Hasseman Marketing, a full-service marketing agency located in Ohio.  Learn more about Hasseman Marketing here.  And if you are interested in having him speak at your next event, you can learn more here.