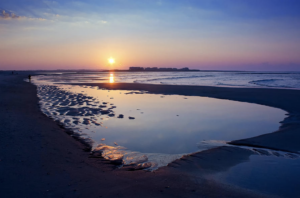 As I type this, I am sitting in a friend's beach home at the beginning of a family vacation.
I love the ocean.  It provides me with a great deal of inspiration and peace.  There is an entire industry around beach vacations, so I know I am not alone.  But I have a friend who does not feel the same way.  He doesn't like the sand, the accommodations, "just sitting there," etc.  All of the things that inspire me are a turn-off to him.
And for years, people have asked him if he was crazy.
"What do you mean you don't like the beach?  What is wrong with you?"
Spoiler alert:  there is nothing wrong with him.  That is just not what drives him.
We all have things that inspire and drive us.  And they are unique to us.  There is no "right reason" to do something.  Just our reason.  There is no correct way to be inspired.  Just our way.  And we all need to create our own things to be excited about.
This world does a great job telling us what we "should" do…or what we should be excited about.
But a select few will do that work for themselves.  They will decide what inspires them.  This group will decide what their own goals are.
Let's make sure you are a part of that group.
Get a copy of my best-selling book "The Give First Economy" for FREE here.  Thanks for reading!  Learn more about Hasseman Marketing (and how we might be able to help you) here.